Are you a good rapper but don't know what to name yourself? Do you want your name to sound violent and generic at the same time? If so, we here at FunCrusher can help you out with our
16 Tips To Make An Unoriginal Rap Name
!!
Proclaim your youth! No one want to listen to an old man flow, you have to be young and exude that "I don't give a fuck" mentality. The easiest way to master this name trait is to make your first name Young and the second part of your name can be anything. Just write down the first thing you come up with, Young ________. Remember, this still works even if your old. No one will listen to Middle-Aged Jeezy, but Young Jeezy is another story.
Young examples:
Young Hot Rod, Young Black Teenagers, Young MC, Young Soldiers, Young Noble, Young Buck, Young Jeezy, Young Dro, Young Justice, Young B, Young Gunz,Yungstar
and the list goes on.
Say that you want to prove that your young, but your also short and small. Use the first name Lil', it's much easier to say than Young Short Small _______. And plus the Lil' name has a great lineage:
Lil examples
:
Lil' Scrappy, Lil' 1/2 Dead, Lil' Bastard, Lil' Boosie, Lil' Bow Wow, Lil' Brotha, Lil' Cease, Lil' Flip, Lil Fizz, Lil' Jon, Lil'Keke, Lil' Kim, Lil' Malik, Lil' Mama, Lil Rob, Lil' Romeo, Lil' O, Lil Wayne, Lil' Troy, Lil' Wyte
, and the list goes on.
If your a plus sized individual, those two suggestions didn't do much. You don't want to be a faker right? So if your a little bit larger, you want to be Big______. Don't worry about beefs with this name, it's as intimidating as simplistic names come.
Big examples:
Big Pun, Big L, Big Pooh, Biggie Smalls, Big B, Big Tuck, Big Syke, Big Pokey, Big Hawk, Big Moe, Big Gemini, Big Jess, Big Reese, Big Daddy Kane, Big Mike, Big Tymers, Big Lo, Big Noyd, Big Quarters, Big Shug, Big Stackssss, Big Stress, Big Kuntry King, Big Herk, Big Gipp, Big Mello, Big Lurch (check out this crazy motherucker), Big Rube, Big Pimpin' Delemond, Big Boi
, and the list goes
on.
If your pretty secure with your body type, why not apply an easy label? It's much less time-consuming than Big _____, just call yourself Fat __insert your name here__. This works best if your Italian or if you used to be in the mob, because insiders know that the fat ones are the dangerous ones. You could also go the other way though, and call yourself Skinny ______. Skinny rappers are usually pimps, so it's at your discretion if you want to insert that into your name (it never hurts).
Fat examples:
Fat Joe, Fat Pat, The Fat Boys, Fat Tony The Ill Sicilian, Too Fat(Phat)
, and the list... kind of stops here.
Skinny examples:
The Skinny Boys,
Skinny
DeVille, Kingpin
Skinny
Pimp, Skinny Black
, and once again the list abruptly stops.
What's more important than the money? You have to reference money somehow in your name, or else people won't see you as a ravenous, money hungry vulture who could care less about the culture. Like I said it's a necessity. Paper, Cash, and Money are the typically used ones here, no real need to be creative,
Money Examples:
Rappin 4-Tay, Paperboy, Curren$y, Fidel Cashflow, Young Money, Dead Presidents, Cash Money, Young Moula
,
50 Cent, Lloyd Banks
,
Ray Cash
and the list goes on.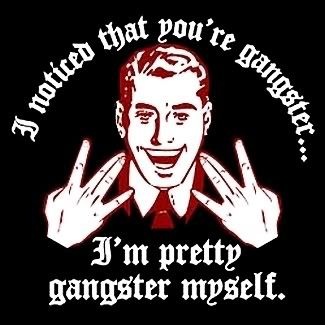 Why make up a name of your own when you can use somebody else's? That should be common logic. But, this one is kind of tricky. You don't want to just use anyone's name. Say you decided to use the name
Big Bird
, you might get some looks. So, in order to create or "borrow" a GOOD name, choose someone whose had an overglorified movie or two made after them. John Gotti seems to be pretty popular here (hint, hint).
Gangsta Examples:
Rick Ross, Freeway, Nas Escobar, Scarface, Dreddy Kruger, Noreaga,Capone,Irv Gotti, Yo Gotti, Big Gotti, Don Goitti, Juan Gotti, Bazooka Joe Gotti
Honorable Mention:
1. Name yourself after a sex(ual) act: 69 Boyz, Cunninlynguists, Silk the Shokker, Swollen Members, Shorty Shitstain, Da Bush Babees, Yak Ballz,
2. Name yourself after something illegal, dangerous or violent: Tony Yayo, Peedi Crack, Anonymous Roundz, Kon Artist, Bone Crusher, Uncle Murda, Brotha Lynch Hung, 2 Pistols, 40 Cal, 8 Ball, C-Murder, Kokane,
3. Make your name sound like an animal: Chamillionaire, Birdman, Chali 2na, Spider Loc, Peanut Butter Wolf, Snoop Dogg,
4. Sound grown yet violent: Puff Daddy,Trick Daddy, Daddy Yankee, Ol' Dirty Bastard, Mr. 3-2, Mr. Criminal, Mr. Knightowl, Mr. Lil One, Mr. Shadow, Mr. Silent
5. Just think of something really goofy: Devin the Dude, Del tha Funkee Homosapien, CC Lemonhead, Busdriver, Papoose, Insane Clown Posse, Limp Bizkit, Crunchy Black, Flo-Rida, Funky Aztecs.
6. Use your real name (Boo): Mike Jones, Kanye West, Sage Francis, Andre Nickatina, Talib Kweli, Saul Williams, MC Paul Barman, Asher Roth
7. Describe yourself with avid adjectives- Messy Marv, Bubba Sparxxx (get it like Bubba smokes, very clever), Master P, Marky Mark And The Funky Bunch, SkateBoard P, Rappin' Duke, Keak da Sneak, Afroman.
8. Make your name an adjective or an unidentifiable object- Nelly, Chingy, Fabolous, Jkwon, Baby Bash, Juelz Santana, Papoose.
Second to lastly, you can always end in man, and can always insert the word Baby anywhere.
Lastly, always end your name in Z, ALWAYS!!!
EX: Dem Franchize Boyz, New York Timez, Da Notorious Prime Playaz, Da Muzicianz, Boss Hogg Outlawz.... and almost half of the previous names we used.
An ideal name for me might be:
Mr. Young Lil' Drug Trafficking Gotti Venereal Big Fat Baby Sex Skinny Dogg Guy Fawkes Ironic Cash Manz
Isn't that so much better than anything you could have done yourself?
Posted on 2:00 PM by Guy Fawkes and filed under
Ill-Logical
|
6 Comments »