Was giving this compilation a listen today, and once again I felt like this was another case of people reading a book by it's cover. We all forget that 50 used to be a really dope rapper eight years ago, and that he actually earned his respect in the hip-hop community by making good music. He earned Eminem's respect when Slim Shady was on top of the hip-hop world... that is an achievement. Forget Curtis Jackson, I fucked with him for a few years when he was 50 Cent. I don't really have to say anything about the shit that's happened to 50 in the last 5 or 6 years... he really lost my support quickly. Still, I bang the shit out of this tape and the "Get Rich or Die Tryin" soundtrack.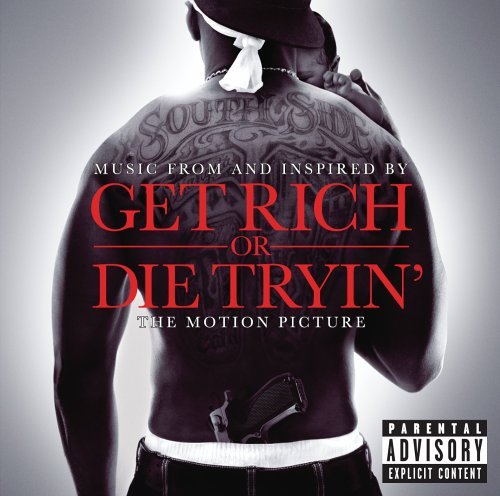 There's just something about 50 Cent, love him or hate him, you have to admit that 50 has drive. He's gone from gangster to phony to god-knows what nowadays... but still he is a hip-hop mogul, profiteering off club bangers and songs for the ladies like no one before him... quietly amassing over 100 million dollars. Still, most people hate him. Here's why you owe him a little bit of respect...
Hustler's Ambition- At one point in time, we all saw a cute, sappy rags to riches story called "Get Rich Or Die Tryin". This was the downright banger that accompanied that film. I didn't really enjoy the movie, but the ending is epic as hell, when 50's goon strikes down a drug kingpin and this beat comes in... great ending and possibly 50's best song ever.
Rotten Apple- This never was a track that really amazed me, but it's still pretty consistent, and a really above-average track for 50. Compared to the shit he's making today... doesn't even sound like the same artist.
Too Hot- Probably the best 50 has ever gotten lyrically in his whole career, that's what a Nas feature does to a hungry rapper's dedication. This was a very dope track, actually from a movie soundtrack, although I can't remember which movie.
Anyway, I hope you'll see that early 50 Cent actually deserves some credit. And that'll do it for me. Pretty lazy today, so I gotta thank the FunCrusher fam for holding the posts down.
Posted on 8:20 PM by Guy Fawkes and filed under
Reviews
,
Wait A Second
|
6 Comments »